My Wif Hates Me…And We're Heading Toward Divorce!
Mileva was right on about Elsa. She was a mate poacher. Einstein started visiting her more frequently, and that was the beginning of the end of Albert and Mileva's marriage. After a fight, Einstein left. He soon drew up a separation agreement that detailed the support he would provide. Mileva and her young sons moved back to Zurich.
In 1916, during one of his visits to see the boys, Einstein asked Mileva for a divorce. Soon afterward Mileva had a nervous breakdown. As she recovered slowly, their son Eduard then became a cause for concern. Eduard was incredibly intelligent. He read Goethe and Schiller in first grade and had an eidetic (photographic) memory. Anything that Eduard decided to learn he mastered with astonishing speed. But he was deeply unstable. Eduard deteriorated, and had to be housed in a psychiatric hospital in 1933. He died at the same hospital 32 years later.
Mileva and Einstein finally divorced on February 14, 1919. After the divorce, Mileva spent a great deal of her life taking care of Eduard. In 1947, her health began to deteriorate. The following year in 1948, she suffered a stroke that left her paralyzed on one side of her body. Mileva died later that year.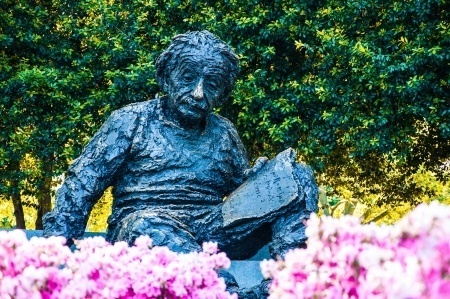 My Wife Hates Me… So I'll get a New One!
Einstein and Elsa spent time together as children but lost contact as adults. During one of Einstein's visits to Berlin, while he was still married to Mileva, he met his cousin again. She was divorced and living with her two daughters in an apartment right above her parents. Einstein felt comfortable with Elsa in this familial environment. When he moved to the University of Berlin, he continued seeing her with increasing regularity.
After his separation from Mileva, Einstein saw Elsa even more often. In September of 1917, he moved in with her. Like a consummate mate-poacher, Elsa was clearly attracted to Einstein's fame and status and kept pressuring him to divorce Mileva.
After the divorce took place in 1919, Einstein was free to marry Elsa. His main attraction to her was that she was a great cook. Their friends described their marriage as devoid of passion. Nevertheless, they were married on June 2, 1919, less than four months after his divorce from Mileva. Einstein was 40 and Elsa was 43. Their marriage seems to have been platonic.
Although some of Einstein's friends criticized Elsa's eagerness for fame and fortune, she was deferential to Einstein's wishes. Elsa fostered a home life conducive to Einstein's needs. Despite his towering intellect, Einstein was emotionally stunted and required a relationship that focused on his needs exclusively. Elsa was more than willing to oblige. Unlike Mileva, Elsa was not a great intellect.
As could be expected, Einstein's immaturity continued unabated. Problems developed with Elsa, as they did with Mileva because of Einstein's constant flirtation with other women. He was very famous, and he indulged many opportunities to enjoy the attentions of adoring female fans. It seems that Albert's capacity for authentic intimacy was only relative.